Cycling holidays in the Baltics
CYCLING HOLIDAYS
IN THE BALTICS
Looking for the best cycling holidays? Despite a lack of mountains, with the highest point reaching just over 300 m above sea level, the Baltics offer an interesting and at times challenging terrain for cyclists of different ability levels. You may find yourself cycling along the Baltic Sea (Bike tour to Jurmala) or a scenic grit road in the deepest countryside. Cycling infrastructure in the Baltics is a mix of designated cycle trails and marked routes along existing roads and tracks.
Routes will commonly include both cities and townships, and picturesque natural scenery. In fact, cycling is one of the best ways to get a true impression of the vastness of Baltic landscapes, the thick forests and pastoral lifestyles still relevant today. The region is dotted with cultural and historical highlights from crumbling windmills to impressive castles.
Some parts of longer journeys can be completed by public transport. Self drive holidays are also a great option with cycle tours as a day trip.
Whatever your ability, we can help arrange your perfect cycling holiday in the Baltics to include the best sites and attractions, independent guest houses or manor estates, so you can unwind at the end of the day with a sauna experience. There's no greater way to relax those muscles after a day of cycling in the Baltics!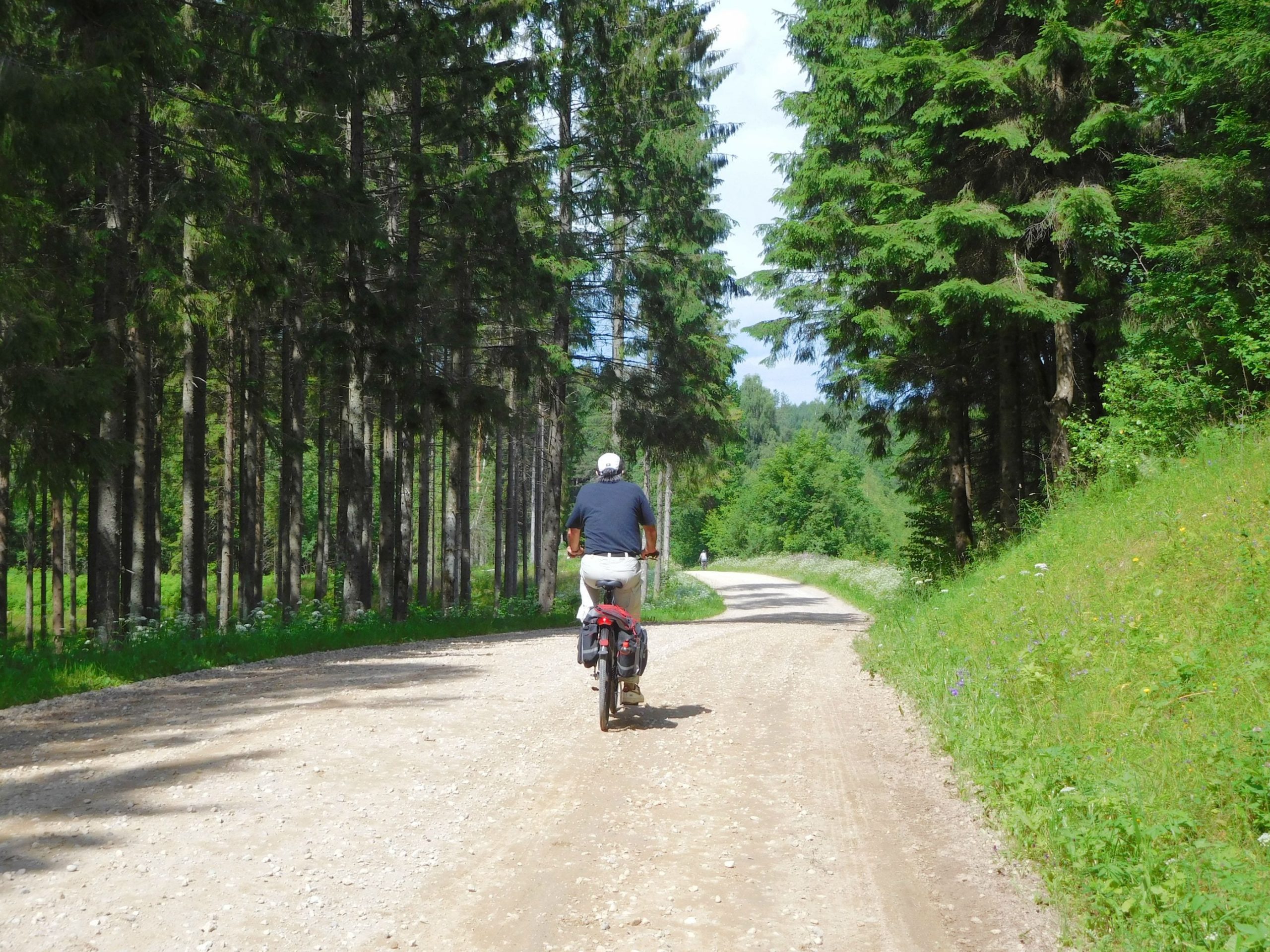 PLEASANT CLIMATE FOR CYCLING HOLIDAYS IN THE BALTICS
The Baltics are known for their temperate climate, which makes for comfortable cycling from spring through early autumn. Summer temperatures reach rare highs of around 30 degrees Celsius. Evenings can get chilly and rainfall is possible throughout the seasons.
In summer, wild swimming is a popular pastime in the Baltics. At Baltic Nature Travel we encourage you to try a dip in a lake, river or the Baltic Sea. This is a great reason to stop en route and regain some energy.
SUGGESTED CYCLING ROUTES IN THE BALTICS
Greenways
The Greenways routes criss cross South Estonia and North Latvia, having given a new lease of life to the region's abandoned railway lines. This is a great choice for those keen on discovering what life is like in smaller towns in the Baltics and with an interest in the region's cultural and industrial heritage. Read more here.
EuroVelo13
This route retraces the so-called 'Iron Curtain', which ran from the Barents Sea to the Black Sea. EuroVelo13 runs through all three Baltic States and never takes you far from the Baltic Sea coastline. Highlights along the way include sleepy fishing villages, military heritage sites and natural attractions such as Slitere National Park in Latvia. Read more here.
Latgale – Aukstaitija
Far from the beaten track, this route is an excellent choice for cyclists wishing to truly immerse themselves in authentic local Latvian and Lithuanian culture. It snakes through rich farmlands and along glorious blue lakes. En route are traditional villages, farms and unexpectedly grand churches, which these areas are known for.
Keen to get on your bike and go? We're happy to put together the perfect itinerary and make arrangements for your cycling holidays in the Baltics.

get in touch to discuss how we can help you
discover the best alternative things to do in the Baltics!
What travelers say about us

We have just spent 9 days travelling through the Baltic countries with Valdis as our guide. Although the itinerary and accommodation had been pre-arranged Valdis supported our trip brilliantly, bringing to life the individual countries with city walking tours, nature trails and visits to other sites. He is great fun, extremely knowledgable and became an integral part of our small group. His contribution to our holiday played a key part in making it a great and enjoyable experience (and he recommends good places to eat!)

If you are looking to go to the Baltic's on an active vacation, make sure to check out Baltic Nature Travel as your travel advisor. We recently finished a 10-day self-driving tour of the Baltic's and wanted to have an active trip whilst not missing out on all the cultural highlights of the region. Valdis, the owner of Baltic Nature Travel was very responsive and organized a trip that included kayaking, long distance bicycle riding, hiking in different forests, cooking activities, cultural highlights, hot-air balloon riding, etc-- all in a matter of 10 days and customized the trip to our liking. We were very satisfied with his responsiveness to our needs and his ability to stay ahead and plan various activities appropriately. Just to give you one example of Valdis's ability to think ahead: in one of the hotels, they have very limited parking. On his own initiative, Valdis made a to call to the hotel and reserved a parking spot for us for the one night that we were going to stay at that hotel. It helped out a lot, as we had to leave very early in the morning. There are other numerous examples where he was available to answer questions and help us as necessary, both before and during the trip. He is an excellent guide, calm and collected and his team of guides around the region were quite knowledgeable and fluent. The accommodation for the trip were quite good and and they can be easily adjusted based on your budget. I highly recommend his touring company for your Baltic travel experience and would like to add that as a person he's very likable and easy-going.

A perfect series of daily hiking tours and town walkarounds. I especially was amused by the jungle-like forests and friendly conversations along the way. Everything was perfectly planned and organized, I definitely recommend, worth thousand-times more than simply visiting cities in a rush.

We had an excellent day hike with our guide Valdis. He was very friendly, very service minded and knowledgeable. The hike through Gauja National Park was really beautiful. Heartily recommend for anyone looking for an active day trip outside Riga.

Sergey Zhuravlev
2022-02-28
I enjoyed the hiking tour in the Beberbeķi-Skulte regions of Riga. The route was mainly through the forest, so this is a great opportunity to get away from the city bustle and daily routine and to spend a few hours in nature. The tour guide Valdis is very friendly and he has a lot to tell about the area. I am looking forward to the next tour and recommend joining it.

I had a wonderful hiking tour trough Kemeri National Park with Baltic Nature Travel. Valdis is a very well informed and nice guide! I would totally recommend a tour with him!

Really nice activities and tours by Valdis. Highly recommended. Definetely I will repeat soon.

Thoroughly enjoyed my hike with Valdis and Solveiga. It was exactly what I hoped for. Perfect for someone looking to explore more of Latvia but nto sure where to go!

Awesome hike, beautiful scenery. Valdis was very friendly and knowledgeable. Will recommend
Leave a review
Tell us about your experience!