Cycling holidays in the Baltics
CYCLING HOLIDAYS
IN THE BALTICS
Looking for the best cycling holidays? Despite a lack of mountains, with the highest point reaching just over 300 m above sea level, the Baltics offer an interesting and at times challenging terrain for cyclists of different ability levels. You may find yourself cycling along the Baltic Sea (Bike tour to Jurmala) or a scenic grit road in the deepest countryside. Cycling infrastructure in the Baltics is a mix of designated cycle trails and marked routes along existing roads and tracks.
Routes will commonly include both cities and townships, and picturesque natural scenery. In fact, cycling is one of the best ways to get a true impression of the vastness of Baltic landscapes, the thick forests and pastoral lifestyles still relevant today. The region is dotted with cultural and historical highlights from crumbling windmills to impressive castles.
Some parts of longer journeys can be completed by public transport. Self drive holidays are also a great option with cycle tours as a day trip.
Whatever your ability, we can help arrange your perfect cycling holiday in the Baltics to include the best sites and attractions, independent guest houses or manor estates, so you can unwind at the end of the day with a sauna experience. There's no greater way to relax those muscles after a day of cycling in the Baltics!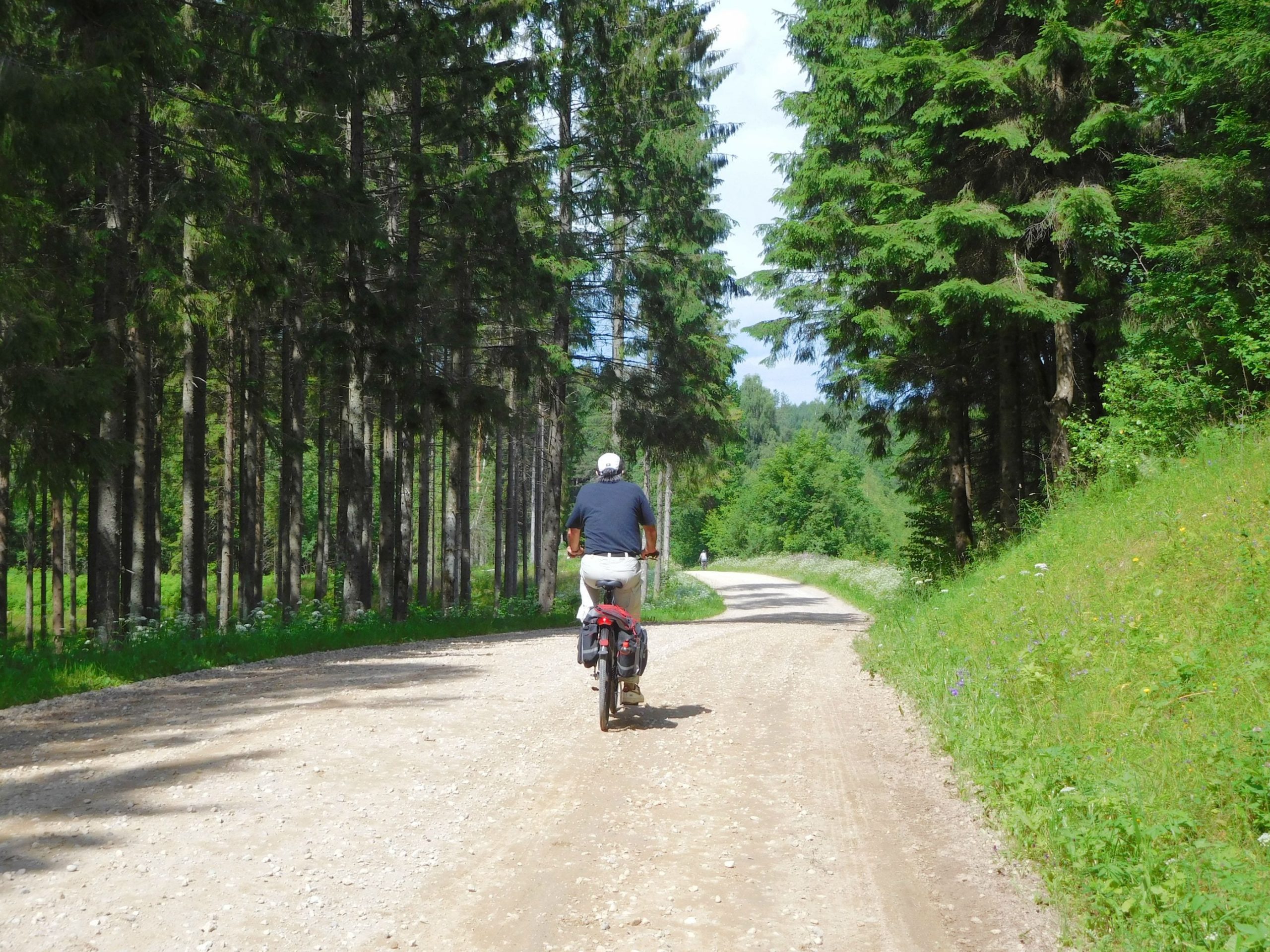 PLEASANT CLIMATE FOR CYCLING HOLIDAYS IN THE BALTICS
The Baltics are known for their temperate climate, which makes for comfortable cycling from spring through early autumn. Summer temperatures reach rare highs of around 30 degrees Celsius. Evenings can get chilly and rainfall is possible throughout the seasons.
In summer, wild swimming is a popular pastime in the Baltics. At Baltic Nature Travel we encourage you to try a dip in a lake, river or the Baltic Sea. This is a great reason to stop en route and regain some energy.
SUGGESTED CYCLING ROUTES IN THE BALTICS
Greenways
The Greenways routes criss cross South Estonia and North Latvia, having given a new lease of life to the region's abandoned railway lines. This is a great choice for those keen on discovering what life is like in smaller towns in the Baltics and with an interest in the region's cultural and industrial heritage. Read more here.
EuroVelo13
This route retraces the so-called 'Iron Curtain', which ran from the Barents Sea to the Black Sea. EuroVelo13 runs through all three Baltic States and never takes you far from the Baltic Sea coastline. Highlights along the way include sleepy fishing villages, military heritage sites and natural attractions such as Slitere National Park in Latvia. Read more here.
Latgale – Aukstaitija
Far from the beaten track, this route is an excellent choice for cyclists wishing to truly immerse themselves in authentic local Latvian and Lithuanian culture. It snakes through rich farmlands and along glorious blue lakes. En route are traditional villages, farms and unexpectedly grand churches, which these areas are known for.
Keen to get on your bike and go? We're happy to put together the perfect itinerary and make arrangements for your cycling holidays in the Baltics.

get in touch to discuss how we can help you
discover the best alternative things to do in the Baltics!
What travelers say about us
36 reviews on


I took the Kuldiga trip with Valdis. The experience was amazing. The entire day was great. He is a great guide, and knows a lot of interesting information. He would definitely make your whole experience even better. Kuldiga is such a captivating city, very unique with a very special style and soul. If you are visiting Latvia, don't hesitate to take this trip, it is a "must".

Stanley Wallerstein
2023-08-29
Great Tour and great guide. Baltic Nature Travel is excellent.

Maria M Andrade
2023-08-28
Valdis organized an absolutely wonderful 10 day trip to Estonia, Latvia, and Lithuania trip for my sister, a friend, and myself. He arranged all details including our private chofer and tour guide up the last detail. He went far and beyond when he knew I had an accident in Estonia. We met him Latvia and he make us feel welcome. He recommended the most amazing restaurants for us and he took care of my doctor needs where he was the interpreter. In every country we had the best guys one can possibly ask for. All hotels were walking distance from city centre. Thank you Valdis we will always remembered this trip!!!!

Thank you, Valdis, for helping my family have a wonderful two week trip to the Baltics! Your advice and recommendations were very helpful, and our tour guides in 4 different cities were each outstanding! I highly recommend a vacation in the beautiful and fascinating Baltics, and I highly recommend using Valdis to help you plan it.

Rita Derencius
2023-08-09
Tours and tour guides, Tomas and Mindaugas, exceeded my expectations. We were able to curate our tour of Lithuania. The guides were extremely knowledgeable and adapted the tour based on our input. Valdis was responsive and easy to work with. Extremely happy we chose to have private tour guides. Best trip ever!

Deniz Demirors
2023-08-08
Valdis did amazing job to organize us a 15 day, 14 night self drive adventure trip to Estonia, Latvia and Lithuania. Thanks to his valuable advise before and immaculate documentation with names of the locations, guides etc we had a magical experience. We hiked, biked, walked, beached and off course drive all over in all 3 beautiful countries. We felt very safe. Everyone we met were very friendly. The car was delivered to our first hotel in Tallinn and picked up from last hotel in Vilnius. They were professional and kind people. We encountered few minor issues but Valdis resolved very promptly so our program was not impacted. We met him in Riga as he was our guide. Thanks to Valdis & his team of guides we had an unforgettable time and experience. Valdis is very gently, kind, hears his clients wishes and makes adjustments in his existing programs. Job well done Valdis. Thank you very much.

Catherine Herway
2023-06-24
These are the only places on earth where eastern and western architecture can now meet in harmony. The architecture tells a social history translated into excellent English on this tour! The hotels were clean, comfortable, and safe. The food was outstanding as well, I only wish I had more time!

A very good and interesting guide. Customized trips - which is very useful. If you want to get to know Latvia (which is worth it!) there is no one better. Highly recommended.

Giovanni Paolo Palamara
2023-01-07
Very interesting trip. Definitely worth it!
Leave a review
Tell us about your experience!