Camping in the Baltics
In Wild nature
Camping in the Baltics, fall asleep to the lulling sounds of the Baltic Sea lapping its sandy shores and wake up to the distant call of a heron breakfasting in a nearby swamp. Replace your morning coffee with a mug of herbal tea with a touch of energising peppermint or jump into the sea or nearest lake for an invigorating swim to kickstart the day.
Wild camping is allowed and even encouraged in Latvia, Lithuania and Estonia, provided you respect some general rules. You'll be rewarded with intensely fresh air, scenic sunsets and sunrises, and an excellent night's sleep leaving you refreshed and enthusiastic for your return to daily life post-holiday.

General rules for camping in the Baltics
Latvia, Lithuania and Estonia boast liberal public access laws, however, you should never set up camp in designated protected areas such as nature reserves, fragile dunes or military zones. Feel free to hike and forage in public and private forested areas unless signs advise otherwise. Try to plan ahead and consider free-of-charge camping grounds near natural attractions where you'll have access to basic toilets, fire pits and rubbish bins.
Should you choose to pitch your tent or hang your hammock outside a designated camping area, choose wisely, so as not to affect the wildlife and your own safety. Avoid areas with visible animal trails, as well as single standing trees in case of lightning threats. Always extinguish your fire before leaving and dispose of any rubbish at the nearest bin, even if this means carrying it with you.
When relieving yourself in the outdoors, stay away from water sources. Wash dishes and yourself without strong detergents or soap.
For more detailed information, browse the websites of:

Things to be aware of when camping in the Baltics
Insect repellant is a must-have as mosquitoes are quite active from spring to autumn but it's most important for avoiding ticks, which can carry Lyme disease and Tick-borne encephalitis. Protect yourself from the latter by getting a vaccination prior to your trip. And pick up a tick removal tool from a pharmacy.
Make sure to wear suitable clothing to protect yourself from insect bites. Tuck trousers into socks to limit ticks' access to your skin, wear light-coloured clothing, so you can spot ticks and flick them off early, and choose "slippery" materials, which ticks can't get through. Sleeves should be tight-fitting at the wrists.
Snakes aren't a major threat in the Baltic outdoors, however, one venomous snake does call the Baltics home – the Common European viper. When planning your trip, for these reasons and your general safety, take note of the location of the closest medical centre.
Another factor to consider when hiking and camping in the Baltics is hunting season. Hunting is highly regimented and hunting areas are marked in advance, so it's unlikely to affect your plans.

Camping season in the Baltics
In winter, temperatures often drop well below zero degrees Celsius, which can be appropriate for day hiking, but less so for camping unless you're trained and equipped with professional gear. Of course, winter camping can be a beautifully serene experience, but do prepare accordingly! Generally, April – October are the most comfortable months for camping.
Due to very changeable weather, layering is key to enjoying your Baltic camping experience, and rain protection is a must-have.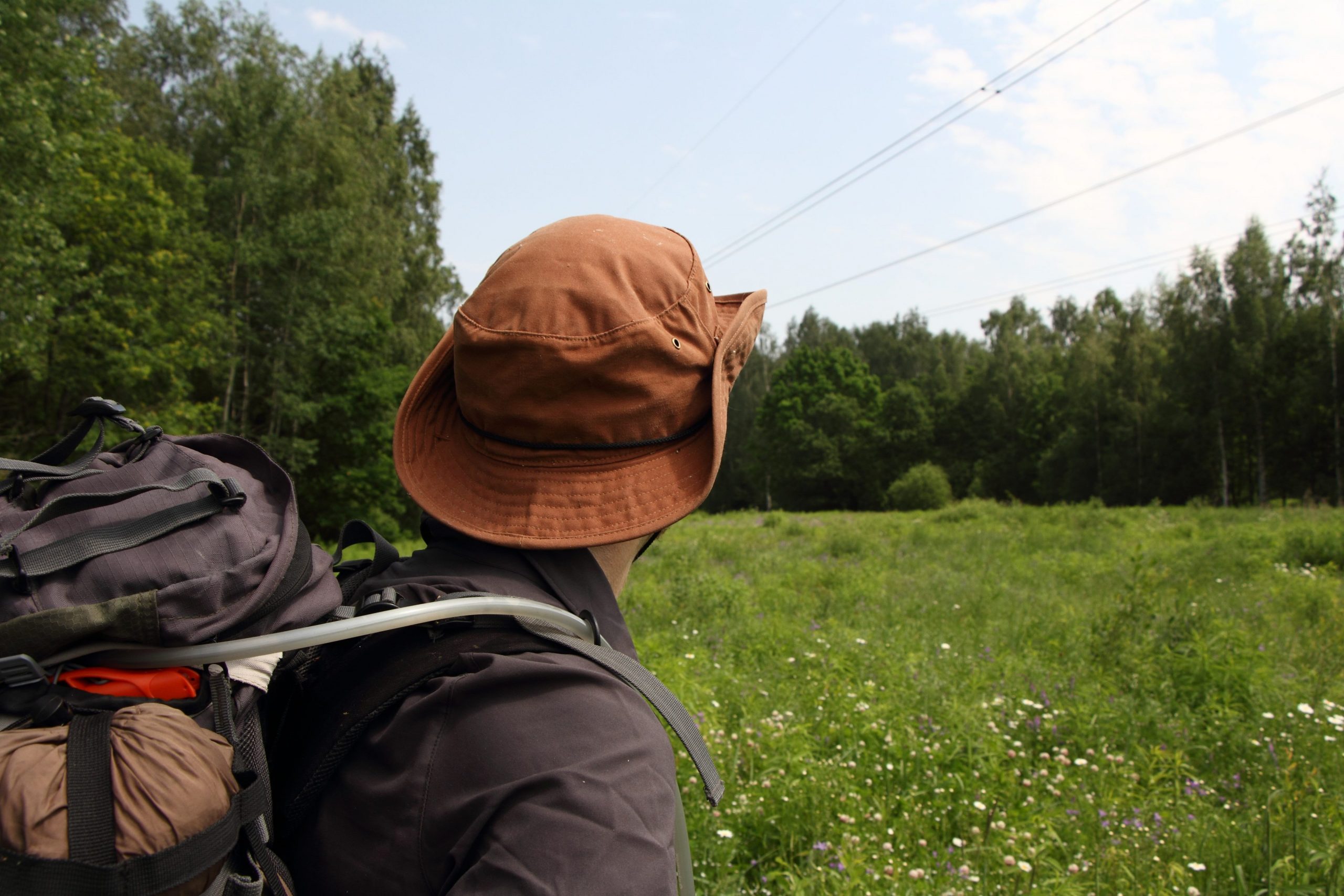 Be considerate when camping in the Baltics
Always keep in mind the fragile nature of our flora and fauna. Stick to marked trails whenever possible. Look out for signs and information. Enjoy your wild adventures so that the next generations can enjoy them too!
To plan your nature trip take a look at our nature and culture site. If your perfect holiday involves hiking and overnighting in the wild, camping in the Baltics is right for you! We'll gladly help plan your trip.
Self guided tours
Do our self-guided tours and enjoy the freedom!
Our self-guided tours:
Guided hiking tours
Join our hiking tours to find the most interesting places!
Our hiking tours in Latvia:
closer to the core of the Baltic States
What travelers say about us

We have just spent 9 days travelling through the Baltic countries with Valdis as our guide. Although the itinerary and accommodation had been pre-arranged Valdis supported our trip brilliantly, bringing to life the individual countries with city walking tours, nature trails and visits to other sites. He is great fun, extremely knowledgable and became an integral part of our small group. His contribution to our holiday played a key part in making it a great and enjoyable experience (and he recommends good places to eat!)

If you are looking to go to the Baltic's on an active vacation, make sure to check out Baltic Nature Travel as your travel advisor. We recently finished a 10-day self-driving tour of the Baltic's and wanted to have an active trip whilst not missing out on all the cultural highlights of the region. Valdis, the owner of Baltic Nature Travel was very responsive and organized a trip that included kayaking, long distance bicycle riding, hiking in different forests, cooking activities, cultural highlights, hot-air balloon riding, etc-- all in a matter of 10 days and customized the trip to our liking. We were very satisfied with his responsiveness to our needs and his ability to stay ahead and plan various activities appropriately. Just to give you one example of Valdis's ability to think ahead: in one of the hotels, they have very limited parking. On his own initiative, Valdis made a to call to the hotel and reserved a parking spot for us for the one night that we were going to stay at that hotel. It helped out a lot, as we had to leave very early in the morning. There are other numerous examples where he was available to answer questions and help us as necessary, both before and during the trip. He is an excellent guide, calm and collected and his team of guides around the region were quite knowledgeable and fluent. The accommodation for the trip were quite good and and they can be easily adjusted based on your budget. I highly recommend his touring company for your Baltic travel experience and would like to add that as a person he's very likable and easy-going.

A perfect series of daily hiking tours and town walkarounds. I especially was amused by the jungle-like forests and friendly conversations along the way. Everything was perfectly planned and organized, I definitely recommend, worth thousand-times more than simply visiting cities in a rush.

We had an excellent day hike with our guide Valdis. He was very friendly, very service minded and knowledgeable. The hike through Gauja National Park was really beautiful. Heartily recommend for anyone looking for an active day trip outside Riga.

Sergey Zhuravlev
2022-02-28
I enjoyed the hiking tour in the Beberbeķi-Skulte regions of Riga. The route was mainly through the forest, so this is a great opportunity to get away from the city bustle and daily routine and to spend a few hours in nature. The tour guide Valdis is very friendly and he has a lot to tell about the area. I am looking forward to the next tour and recommend joining it.

I had a wonderful hiking tour trough Kemeri National Park with Baltic Nature Travel. Valdis is a very well informed and nice guide! I would totally recommend a tour with him!

Really nice activities and tours by Valdis. Highly recommended. Definetely I will repeat soon.

Thoroughly enjoyed my hike with Valdis and Solveiga. It was exactly what I hoped for. Perfect for someone looking to explore more of Latvia but nto sure where to go!

Awesome hike, beautiful scenery. Valdis was very friendly and knowledgeable. Will recommend
Leave a review
Tell us about your experience!