A tour of the highlights of the Baltics provides a sturdy introduction to the region, its history and culture. It's a great option for first timers or those short on time. In the Baltics, you can cover a lot of ground within just a few days since many highlights are located along major roads. For example, Latvia's Rundale Palace or "Versailles of the Baltics" and Lithuania's Hill of Crosses are en route between Vilnius and Riga, and Estonia's beaches in Parnu are on the way between Riga and Tallinn.
Baltic capitals - each with its own flair
The historic centres of all three Baltic capitals are included in UNESCO's World Heritage List but the cities are far from monotonous. Each has its own distinct character.
Riga is the largest city in the Baltics, known far and wide for its Art Nouveau architecture, world class opera house and buzzing Central Market. The neighbourhoods of Kipsala and Agenskalns are no less grand with their 18th – 21st century wooden architecture.
You may recognise Tallinn for its fairy tale old town but the city has many more layers, such as the neighbourhood of Kadriorg with its baroque palace and world-renowned contemporary art museum, and the harbour area of Kalamaja with its quaint wooden housing and bohemian spirit. Many visitors descend on Tallinn on a day trip by ferry from Helsinki.
As the capital of a predominantly Catholic country, Vilnius boasts remarkable churches. Climb to the top of Gediminas Hill for views of the city's steeples and ever-changing panorama. For a feel of how the city is developing, visit the creative neighbourhoods of Naujamiestis and Uzupis.
Thanks to a new generation of inventive chefs and a reliable supply of quality local produce, Riga, Vilnius and Tallinn are becoming popular foodie destinations. Sample wild mushrooms, birch sap, rhubarb and other humble ingredients transformed into culinary masterpieces.
Latvia
Jurmala
At easy day trip distance from Riga, Jurmala is one of the Baltics' favourite beach resorts famed for its intricate 19th century wooden houses, which mingle among the pines alongside impressive Soviet and contemporary resort architecture. Read more here.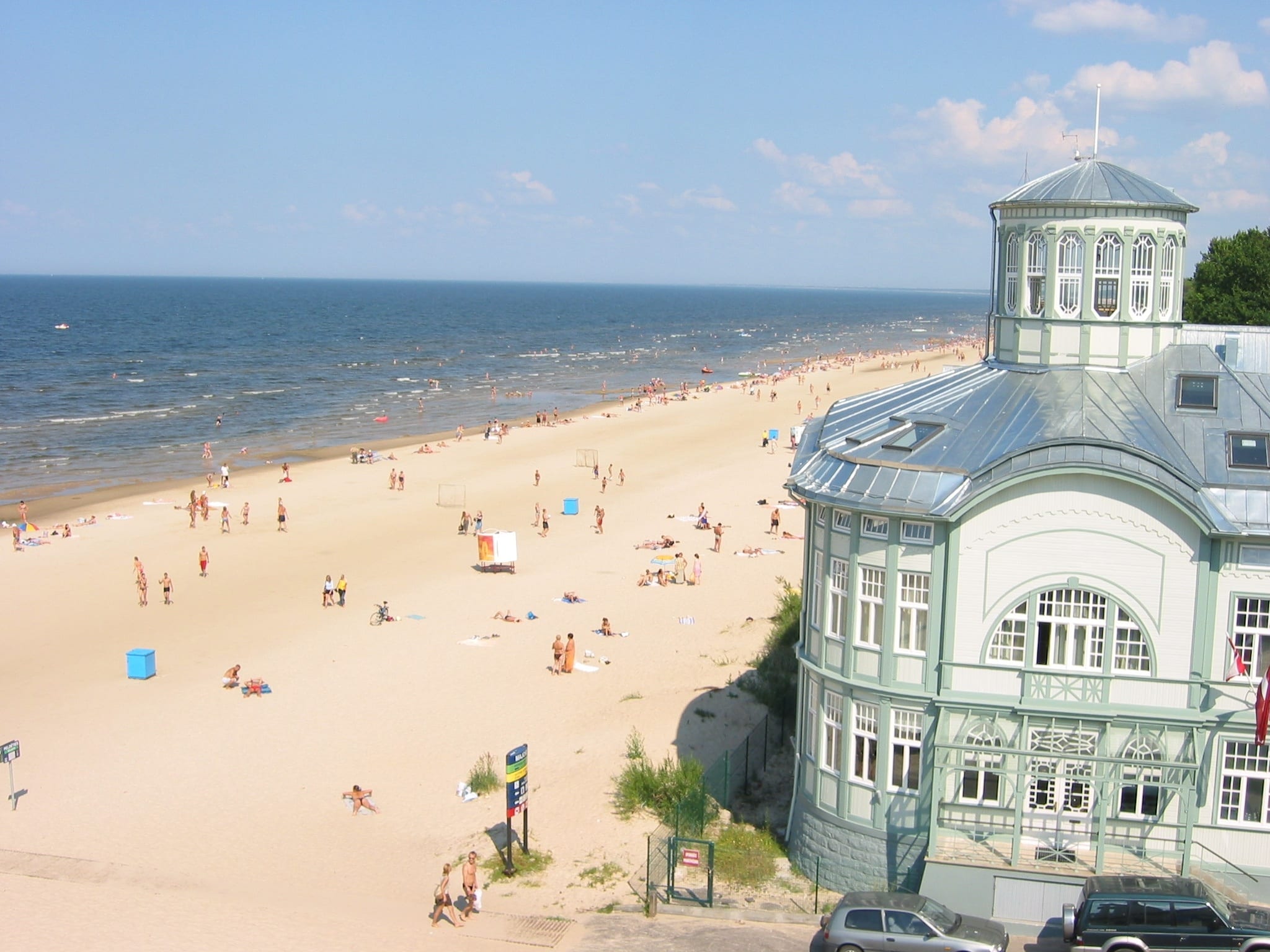 Latvia
Sigulda
The "Switzerland of Latvia" sits within Gauja National Park and is known as the winter sports capital of Latvia. Visitors flock here for active outdoor pursuits as well as delving into history at Sigulda Castle and Latvia's most visited museum – Turaida Museum Reserve. Read more here.

Latvia
Rundale Palace
Arriving at Rundale Palace is a true "wow" moment as you may not expect to see such an 18th century gem in the Latvian countryside. Architect Francesco Bartolomeo Rastrelli is also known for his Winter Palace in St Petersburg. Read more here.

Estonia
Parnu
In summer, visitors flock to Estonia's largest resort to enjoy its sandy beaches, while in winter it's a favourite spa destination. Architecture geeks will appreciate the historical wooden homes, the modernist Parnu Beach House and Art Nouveau-style Villa Ammende. Read more here.

Estonia
The islands
Estonia has over 2000 islands, which is much more than both other Baltic States. The rugged West Estonian Archipelago is fantastic for a tranquil escape. A short ferry ride from the mainland are some of its best known islands of Saaremaa, Hiiumaa and Kihnu with their Nordic maritime vibe. Read more here.

Estonia
Estonian National Museum
Learn what makes Estonians tick at the award-winning museum in Tartu – Estonia's second-largest city. The interactive exhibition will drag you in for hours of exploration if you don't stop short admiring its incredible facade! Read more here.

Lithuania
Trakai Island Castle
Often featured on postcards of Lithuania, the stunningly restored 14th-century castle sits on a luscious green backdrop on an island in Lake Galve. Read more here.

Lithuania
Hill of Crosses
Myth surrounds this unusual site of pilgrimage with no confirmed version of its story. For years, even centuries, visitors have placed crosses here, each for their own reason. The hill has been reborn numerous times after attempts to destroy it under Soviet rule. Read more here.

Lithuania
Curonian Spit
The dreamy UNESCO World Heritage Site's rolling dunes are scattered with historical farms and fishing villages. If you're lucky, you can find pieces of amber on the beach! It's a popular first stop for those arriving by ferry to Klaipeda. Read more here.

Unique experiences
Like a local
Perhaps you've been to this part of the world before or prefer to venture deeper than a country's capital and top attractions. Read more on our web site here.

Pick your highlights of the Baltics
and we'll happily build a bespoke itinerary recommending additional stops on the way.
What travelers say about us

Giovanni Paolo Palamara
2023-01-07
Very interesting trip. Definitely worth it!

Very professional. Valdis, guided a group of 8 around Mangasala, Riga, giving us a fascinating insight into the military history there. Looking forward to the next tour.

Valdis is an experienced guide, a local from Riga. He has a wealth of knowledge and is always able to tell you interesting history along the way. The route plan of the hiking is also reasonable. In autumn, the fallen leaves near Sigulda are also very beautiful. If you are planning to do an outdoor hike in Latvia too, then don't hesitate to join a walking group organized by Valdis.

I took the tour in Lilaste. The train ride was very relaxing. The lakes and coast were amazing. It is great exercise and a fun way to spend a Saturday afternoon.

Great hike at Lilaste. Friendly tour guide. Definitely looking forward to the next hike. Highly recommended for those who want a short break from the daily routine.

Rachel Pamplin
2022-10-18
I enjoyed I enjoyed my tour of Cesis: Medieval Heritage and Natural Treasures! I loved being able to do a little of many things. Exploring the old city, touring a medieval castle, and a walk through a national park. The scenery was amazing and my guide was knowledgeable and helpful! As a single female, I felt safe the entire time and and would recommend to others!

Colleen Bramanis
2022-10-11
We have enjoyed 2 days with Valdis who has shown us around Riga Old Town and a tour out to Sigulda. A very friendly tour guide who tailored the days to our needs with no fuss. Valdis is easy to get along , has a good sense of humour and is extremely knowledgeable. Fortunately for us Valdis is also very fluent in English. I can highly recommend him as a tour guide.

We have just spent 9 days travelling through the Baltic countries with Valdis as our guide. Although the itinerary and accommodation had been pre-arranged Valdis supported our trip brilliantly, bringing to life the individual countries with city walking tours, nature trails and visits to other sites. He is great fun, extremely knowledgable and became an integral part of our small group. His contribution to our holiday played a key part in making it a great and enjoyable experience (and he recommends good places to eat!)
Leave a review
Tell us about your experience!